Official name:
Conventional long form: Republic of Lithuania
Conventional short form: Lithuania
Local Long form: Lietuvos Respublika
Local Short form: Lietuva
Abbreviations:
LT
Area:
65,200 sq km
Population:
3,596,617 (July 2005 est)
Population density:
55.5%
Life Expectancy:
total population-73.97 years // male-68.94 years // female-79.28 years (2005 est.)
Birth Rate:
8.62 births/1,000 population (2005 est)
Death Rate:
10.92 deaths/1,000 population (2005 est)
Nationalities:
Lithuanian-80.6% // Russian-8.7% // Polish-7% // Belarusian-1.6% // other-2.1%
Official Language(s):
Lithuanian is the official language. You will also find Russian and Polish spoken.
Capital:
Vilnius
Principal Cities:
Vilnius, Kaunas, Klaipeda, Siauliai, Butinge, Taurage, Panevezys, Utena, Marijamopole
Government:
Parliamentary democracy
President:
Valdas Adamkus (since July 12, 2004)
Premier:
Algirdas Mykolas Brazauskas (since July 3, 2001)
Independence:
March 11, 1990 (independence declared from Soviet Union); September 6, 1991 (Soviet union recognizes Lithuania's independence)
GDP per Capita:
purchasing power parity - $12,500 (2004 est.)
Currency:
litas (LTL)
Unemployment:
8% (2004 est.)
Chief Crops:
grain, potatoes, sugar beets, flax, vegetables
Livestock and Fish:
beef, milk, eggs, fish
Major Industries:
metal-cutting machine tools, electric motors, television sets, refrigerators and freezers, petroleum refining, shipbuilding (small ships), furniture making, textiles, food processing, fertilizers, agricultural machinery, optical equipment, electronic components, computers, amber
Main Exports:
mineral products (23%), textiles and clothing (16%), machinery and equipment (11%), chemicals (6%), wood and wood products (5%), foodstuffs (5%)
Natural Resources:
peat, arable land
Land Use:
arable land-45.22% // permanent crops-0.91% // other-52.87%
Climate:
Transitional, between maritime and continental. Wet, moderate winters and summers.
Lowest Elevation:
Baltic Sea: 0m
Highest Elevation:
Juozapines/Kalnas: 292m
Rivers and Lakes:
Major rivers: Nemunas, Neris, Venta, Sesupe, Musa (Lielupe), Sventoji, Nevezes, Merkys, Minija
Major lakes: Druksiai, Dysnai, Dusia, Sartai, Luodis, Metelyx, Plateliu, Avilys, Rekyvos, Alausas
Terrain and Environment:
Lowland, many scattered small lakes, fertile soil. Central plains are separated by hilly uplands that are ancient glacial deposits.
Where is Lithuania?
Lithuania is located in Eastern Europe, bordering the Baltic Sea, between Latvia and Russia. Border countries are Belarus, Latvia, Poland and Russia.
What is Lithuania like?
The earliest known mention of the name "Lithuania" is found in the German (Teutonic) chronicles of 1009. Lithuania emerged as a larger state in the middle of the 13th century through a union of Baltic territories with Mindaugas becoming the state's first Grand Duke. The country, however, did not adopt Christianity until 1387 and was, for the most part, under constant military attack by the Germanic Livonian and Teutonic Orders for the first 200 years of its existance as a united territory. Not only did the Teutonic and Livonian Orders fail to conquer Lithuania, but by the end of the 14th century Lithuania became one of the most powerful states in eastern Europe. In 1410, a joint Lithuanian, Polish, Russian, Tartar and Czech army under the leadership of Lithuanian Grand Duke Vytautas crushed the Teutonic Order once and for all at the battle of Žalgiris (Tannenberg or Grunwald). The Grand Duchy of Lithuania was also responsible for keeping the Golden Horde from invading western Europe. (taken directly from the Lithuanian tourism page [6])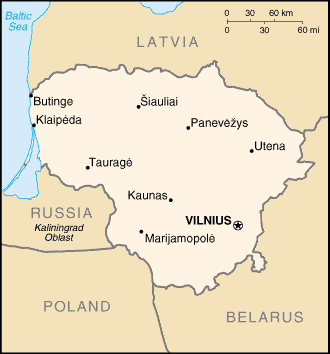 A Brief History of Lithuania
• For the first time Lithuania was mentioned in 1009 in Qedlinburg annals. The Lithuania as a state emerged in early XIIIth century after the union of the main lands. Mindaugas became the Grand Duke of Lithuania at about 1240. At the end of XIVth - and the beginnning of the XV century Lithuania became one of the most powerful states in the Eastern Europe. Almost for the whole two centuries German crusaders invaded the pagan state, though Lithuania was not conquered. Lithuanians fougth bravely for their state and religion. They built castles which are admired even today for their defensive construction. In 1410 united armies of Great Dutchty of Lithunia and Poland inflicted a severe defeat to the Teutonic Knights in defence of their liberty. At the same time the Great Dutchty of Lithuania stood in the way of the attacks of the Mongols-Tatars into the West and helped the Eastern European nations to figth against the Golden Horde. In 1569 the Union of Liublin, sealed the Poland-Lithuania Union into a Commonwealth (Rzecspospolita), while later in the XVIIth century Lithuania became one of its three provinces. After partitioning of the Commmonwealth in 1795, Lithuania was incorporated into Russia. For more than one century Lithuania fought against tsarist oppresion. Only on February 16, 1918 Lithuania proclaimed the act of independence and restoration of statehood. Soon afterwards the independent state of Lithuania was recognized by the largest states of the world and Europe. Lithuania established diplomatic relations with many of them. Only 22 years were allowed for the independent state of Lithuania. In 1940 the Soviet Union occupied Lithuania. The occupants subjugated the nation's liberty and existence. The Lithuania nation fought bravely against the occupants for their independence, although they were outnumbered. The desire for independence was not subdued by the fifty-year occupation. Alongside with dissolution of the Soviet Union, the last colonial empire of the world, on March 11, 1990, Lithuania proclaimed its restoration of statehood. [4]
The Language
Like Latvian and Old Prussian, the Lithuanian language belongs to the Baltic branch of the Indo-European language family. The size of the territory in which Lithuanian was spoken shrank considerably through the ages. Today it is roughly coterminous with the boundaries of Lithuania except for some areas of Lithuanian speakers in Poland and Belarus, and except for the diaspora living in the United States, Canada, Western Europe, Latin America, Australia, and even Siberia.
The medieval Lithuanian rulers did not develop a written form of the Lithuanian language. The literary Lithuanian language, based on a southwestern Lithuanian dialect, came into use during the last quarter of the nineteenth century, replacing the use of the Samogitian, or western Lithuanian, dialect. At the beginning of the twentieth century, the use of Lithuanian was confined mainly to the peasantry, but the language was revived subsequently. In 1988 it was declared the official language of Lithuania, as it had been during 1918-40 and the early years of Soviet rule. [3]
People and Culture
Social behavior is fairly informal. Lithuanians are open and hospitable. Straight professional questions receive straight answers. Business cards are used widely and shaking hands is the common form of greeting and farewell. Lithuanian-Russian relations are not as tense, although care should be taken when discussing Russia and its' role in the region. Lithuanians also dislike being described as members of the Baltic States, rather than Lithuanian. [2]
Every family celebrates occasions that are unique to that particular family but not society as a whole. Certain family occasions (birthdays, weddings, funerals) spill outside the closed family circle and touch a larger group. Funerals often attract uninvited guests that gather to pay their respects to the deceased. [2]
Lithuanian folk art, especially woodcarving and weaving, contributed to the growth of Lithuanian artistic development. Traditionally, folk artists carved mostly crosses, wayside chapels, and figures of a sorrowful Christ – very symbolic and characteristic of Lithuanian crossroads. Lithuanian music is as ancient as its art. Folk music has had a great influence on its development, and choral singing remains extremely popular. Composers write not only choral, but also symphonic, ballet, chamber, and opera music. [3]
The most emotive cultural event is the National Song Festival, held every five years. Over 100,000 people are expected to join in with the singing of several hundred choirs from the Baltic reqion. Midsummer celebrations are keenly celebrated in these latitudes: the night of June 23, considered to have magical powers, is the climax of events. The Baltika folk festival rotates among the Baltic capitals. [5]
Other popular cultural events include horse races on Lake Sartai in Dusetos, near Utena, on the first Saturday of February; St. Casimir Day, Lithuania's patron saints' day, on March 4; the Life Theatre Festival, a week-long theatre festival that features avant-garde productions in Vilnius in May. Also in Vilnuis is a week-long Summer Music Festival of street theatre, dancing, makes parades and craft fairs in the Old town in July; and Vilnius City Days, three days of musical and cultural events in theatres, concert halls and on the streets in in mid-September. Velines (All Souls' Day) commemorates the dead with visits to cemeteries on November 2. [5]
Additional Goodies:
Lithuanian Recipes:
www2.omnitel.net/ramunas/Lietuva/lt_culture_meal.shtml
and
www.lugaila.com/lrecipes.htm
Lithuanian State Department of Tourism:
www.tourism.lt/
Lithuanian Culture Links:
www2.gol.com/users/lithemb/eng/culture.html
News in English:
www.elta.lt/sablonas1.php?kalba=en
Photos of Lithuania:
www.galenfrysinger.com
Sources
[1]
www.cia.gov/cia/publications/factbook/geos/lh.html
[2]
www2.omnitel.net/ramunas/Lietuva/
[3]
lcweb2.loc.gov/frd/cs/lttoc.html
[4]
www.litnet.lt/litinfo/history.html
[5]
www.lonelyplanet.com/destinations/europe/lithuania/
[6]
www.tourism.lt/
Anyone been there or have anything else to add??